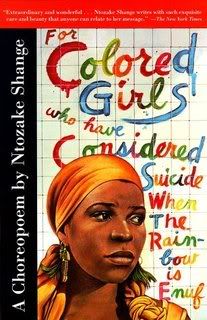 for colored girls who have considered suicide / when the rainbow is enuf
by poet/choreographer/director/author/playwright
ntozake shange
is one of few books I never could have done without.
I remember my first time reading something by shange, a poem called
People of Watts
, inspired by Dana Lixenberg's portrait photography in a '93 issue of
Vibe
. There was something about it. Not long after I recognized her name in the Me'Shell N'degéOcello song
Two Lonely Hearts (on the Subway)
, off her debut album
Plantation Lullabies:
Here comes the train / Please don't turn and walk away – stay / We could read some Ntozake Shange
In '95 I was in NYC for the first time in my life, hanging out at the
Nuyorican Poets Café
to catch a little something of the atmosphere surrounding shange and her friends; star-struck and overwhelmed by the opportunity to interview author/activist Lois Griffith about the café, the poetry slam scene and the disenfranchised of the U.S. and Sweden.
In the vintage section of the
Strand Bookstore
I found most of shange's work and I became obsessed, especially by
for colored girls (...)
which is a choreopoem for 7 women in 7 different cities of the U.S. It was first performed in a woman's bar outside Berkeley, California in '74, later moved on to Broadway, winning an Obie Award.
Lady in Orange:
i'm on the lower east side
in new york city
and i can't i can't
talk witchu no more
20 monologues/poems are intertwined with dance. It's about being an African-American woman in the 20th century, about love, race, gender and violence.
Lady in Orange:
i cdnt stand it
i cdnt stand bein sorry & colored at the same time
it's so redundant in the modern world
Years have passed and I've kept coming back to
for colored girls (...)
Evidently I had to pay tribute in my radio play on hip-hop and betweenship:
Nanna:
Svartvit. (Paus) Att slå upp ögonen varje morgon och
vara ingetdera. Och istället för att fundera på hur långt
regnbågen egentligen räcker, göra sig till den här
saken, för dem att se på, förundras över.
I didn't realise until now what it was I really saw in Ocean Harbour, South Georgia in February: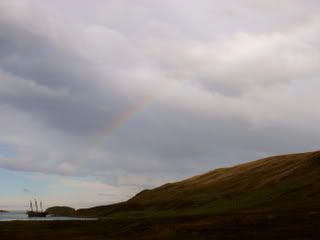 Lady in Brown:
& this is for colored girls who have considered suicide / but are movin to the ends of their own rainbows
Look inside the book
here
.
Listen to great gay rappers
Deep Dickollective
who have done a beautiful tribute to shange and the choreopoem called
For Colored Boys
here
.