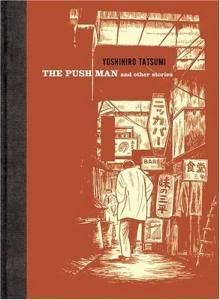 Adrian Tomine has edited and lettered this book of wonderfully strange everyday stories by Japanese alternative comics mega star Yoshihiro Tatsumi. Sexual guilt, violent acts and a few fetuses found in the sewers make up these short stories from 1969, quite beautifully drawn in black and white. It's amazing to read something more than 35 years old that has so much in common with one's present day favourites such as Tomine and Clowes. Which isn't just a coincident.
Read more at Publishing company
Drawn and Quarterly
who say they will be releasing one volume of Yoshihiro Tatsumi's massive body of work a year from now on, every collection consisting of stories all written in the same year.