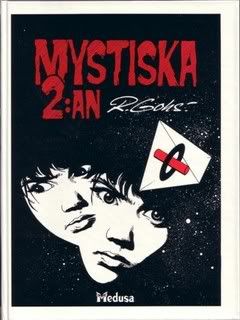 In a shady 70's Stockholm City, Sacho and Stefan, two boys in their early teens, play around amongst all kinds of weirdos, criminals and teen gangs. It's a pretty harsh environment, even for streetwise kids like these, and I can't help loving the seriousness of it all, as well as the quite expressionistic black and white drawings. This is J's favourite comic book, I can really see why.
Komika
will be re-releasing some of the comics this September. Some information and very nice old scans can be found at this
fan site
. I've also heard rumours about there being some sort of film adaptation in the works..?