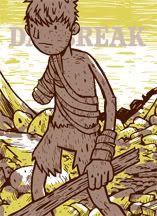 The little one-armed guy takes care of you and leads you through a landscape full of ruins where everyone's on their own and something evil lurks. There is very little you can do besides joining the battle.
This story (number one in a series) first ran in the
Bodega Blog
, a great place where a lot of fantastic artists post their sketches and stuff. The rest of the story is being posted ongoingly.