During my last trip to Malaysia, I finally got my hands on the sequel to
Kampung Boy
, LAT's wonderful story about his childhood in rural Malaysia.
Town Boy
is about his teenage years during the 60's in Ipoh, Malaysia - where my dad was born and raised. Actually, it seems like Dad's just two years older than LAT and it's great to read this graphic novel after recently seeing my dad's old photos of school friends with rock'n'roll posters plastered all over their walls.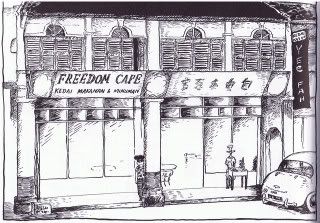 Ipoh is (still) very recognizable in LAT's drawings, and he manages so well to capture the multicultural Malaysian people and their busy street life. He's a genius. Which, of course, is no news to Malaysians.
Head over to
First Second Books
where there's a nice
excerpt
.